The changes an orthodontist can achieve to the physical and emotional development of a growing child are spectacular. It is also equally exciting to create wonderful dental and skeletal changes to our adult patients. I have been practicing orthodontics for more than 26 years and I find it exceptionally gratifying to work with patients of all ages with the goal of creating beautiful and functional smiles. There is nothing like a great smile!
Education and Continuing Education
Washington University, Bachelor of Arts in History and a minor in Chemistry, 1983
University of Pennsylvania School of Dental Medicine, Doctorate of Dental Medicine, 1987
Boston University Henry M Goldman School of Dental Medicine. Certificate in Advanced Graduate Studies of Orthodontics, 1989
I am a strong advocate of continuing my dental and orthodontic education. Part of my commitment to deliver exceptional care to my patients is my ongoing pursuit of new, evidence-based technologies and treatment methodologies that enable our practice to provide the most up-to-date, efficient, and affordable treatments.
Professional Memberships
Diplomate, American Board of Orthodontics
College of the Dipomates of the American Board of Orthodontics
American Association of Orthodontics
Middle Atlantic Association of Orthodontists
New Jersey Association of Orthodontists
Greater Philadelphia Society of Orthodontists
South Jersey Dental Study Club
Awards
Top Orthodontist, Philadelphia Magazine, 2010, 2011, 2012, 2013, 2014, 2015
Top Orthodontist, New Jersey Monthly Magazine, 2010, 2011, 2012, 2013, 2014, 2015
Top Orthodontist, South Jersey Magazine, 2010, 2011, 2012, 2013, 2014, 2015
About Our Team
Stern Orthodontics is about much more than just the orthodontist. I am surrounded by a fantastic group of people, many who have been in our practice for more than 25 years. I think that speaks volumes about who we are. Many of our current patients' parents are thrilled to see the same wonderful faces as when they were patients themselves. The entire team shares a passion to give our patients an amazing orthodontic experience with outstanding treatment in a professional, warm, and fun environment.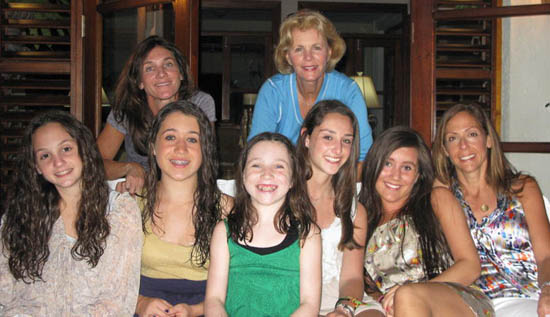 Doctor Stern's family are also his patients.
Outside the Office
I currently live in Cherry Hill, New Jersey with my wife Debra and three children, Sam, Carly, and Allison. I have many hobbies and interests outside of work. I am a avid snow skiier and biker. I am always with my Labrador retriever Phoebe, and depending on the season you will typically find me working in my yard or spending weekends at the Jersey shore.